#7 Miami vs. #3 FSU
Game Time: Saturday, November 2nd at 8:00 p.m.,
Tallahassee, FL
Tailgate Time: 1:00 p.m.- 7:30 p.m.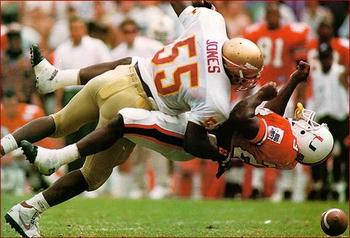 Miami will win this game if the referees feel sympathy for them, and as a result begin ejecting FSU players for the violent hits that are sure to come. Barring mass ejections, our celebration will spill over from the tailgate and into the stands of Doak Campbell.
In honor of our guests from the 305, the tailgate this week will have a South Beach flavor. We will have Cuban food, mojitos, and fresh beats provided by Miami's own DJ Matt "Kickback" Kellough. Come early and stay late as we party our way to Pasadena.
Menu: Tapas, Ropa Vieja, Arroz con Pollo
Cocktail of the Week: Mojitos, we will also have a keg.
Activities: Cornhole tournament at 4:30 p.m.
See you Saturday, and don't forget to pace yourself... The game does not start until 8 p.m.